Cityfest, Inc. continues its year-round jazz concert series celebrating Wilmington's own Clifford Brown
Cityfest, Inc. continues its year-round jazz concert series celebrating Wilmington's own Clifford Brown with "We Are Women, Hear Us Jam!" [facebook.com] in recognition of Women's Appreciation Month. Clifford Brown Year-Round showcases musicians from all over the world each month leading up to the 34th annual Clifford Brown Jazz festival in summer 2021.
The virtual concert premieres live from the studio on Friday, March 26th at 7:00 p.m. with performances by Suzzette Ortiz, Monette Sudler, Lynn Riley, Jan Jefferies, Gloria Galante, and Fostina Dixon. The program features powerhouse works by female composers performed by female musicians.
"Women in jazz have mostly been represented by vocalists, a role that has frequently allowed them to be dismissed as "entertainers" rather than "serious" jazz artists," says Tina Betz, Director of the Mayor's Office of Cultural Affairs. "This month's concert showcases female instrumentalists, composers, arrangers, and bandleaders — all who have become an important part of the jazz scene and its story."
Viewing is Pay-What-You-Wish. To receive a link to the March 26 concert premiere, register at www.cityfestwilm.com/events [cityfestwilm.com]. Concert proceeds support programs like the Clifford Brown Year-Round Series as well as other programs produced by Cityfest, Inc., such as the Urban Artist Exchange Artists' Studios, the Arts Work Summer Youth Apprenticeship Program, and the Clifford Brown Jazz Festival.
Clifford Brown Year-Round showcases jazz musicians from all over the world each month leading up to the 34th annual Clifford Brown Jazz Festival — the largest free jazz festival on the East Coast. The series is presented by Cityfest, Inc. and the City of Wilmington with generous support from The Delaware Division of the Arts, WRTI 90.1 FM, The Kenny Family Foundation, Delmarva Power, An Excelon Company, Gerald Chavis Music, Flux Creative Consulting, The Christina Cultural Arts Center, and The Delaware Contemporary.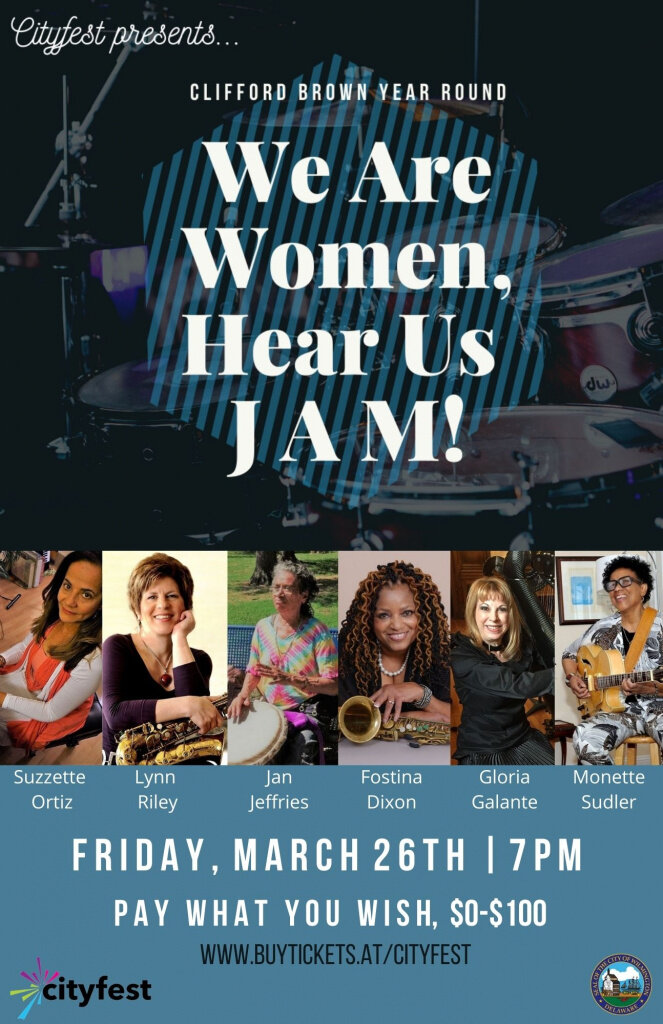 Featured Performers
Fostina Dixon [fostinadixon.com] (Guest Artist), Saxophone
Fostina Dixon was born in Wilmington, Delaware and began her career in the early 1970s, playing with Buddy Collette, Frank Foster, and Andy McGhee. In the early 1980s Dixon led her own group, "Collage", and worked with Cab Calloway, Jimmy Cleveland, Gil Evans, Slide Hampton, Major Holley, Melba Liston, and Gerald Wilson. She was a saxophonist in Marvin Gaye's touring band in the last few years of his life.
Lynn Riley [lynnriley.com], Saxophone
Known as the "Superwoman" of the saxophone and the leader of her group "Lynn Riley and The World-Mix", saxophonist and flutist Lynn Riley expands the musical horizons that inform her infectious music. A gifted instrumentalist and composer, Riley has impressed critics and audiences alike with her funky and accessible sound that is firmly rooted in the mainstream jazz tradition while suffused with influences from a host of world music and the blues. Based in Philadelphia, she has performed with David Murray, Johnny Pacheco, Grover Washington Jr., Philly Joe Jones, David Bromberg, Peter White, Rachelle Farrell, and Charles Earland, among others.
Gloria Galante [gloriagalante.com], Harp
Versatile and dynamic as a performer, deeply committed to teaching community and using the harp as an instrument of healing, Gloria Galante is inspiring. Gloria has toured worldwide performing Jazz, Classical, Latin, African ad Pop genres. She has appeared with such great stars as Frank Sinatra, Diana Ross, Jose Feliciano, Luther Vandross, Odean Pope, Tyrone Brown, Cecil Bridgewater, Warren Oree, Monnette Sudler to name a few.
Suzette Ortiz [facebook.com], Piano
Suzzette Ortiz is an accomplished pianist, composer, arranger, choral conductor and music educator. Suzzette continues to serve as an advocate of music education in her community. She is currently the Artistic Director at Artistas y Musicos Latino Americanos (AMLA) music school in Philadelphia and the choir director of the Jubilee Singers acapella vocal ensemble from St, John Baptist church in Camden, New Jersey, where she strives to continue to create social change through music. Suzzette just finished her training to become a music practitioner, providing comfort music, playing the celtic harp at bed sides and via zoom.
Monnette Sudler [monnettesudlermusic.com], Bass
Grammy nominated jazz guitarist and bassist, composer and recording artist Monnette Sudler is the creator and artistic director of the Philadelphia Guitar Summit. Monnette has performed with many jazz greats, including Reggie Workman, Odean Pope, Lakecia Benjamin, Hugh Masakela, and the late Grover Washington Jr. She has recorded for Steeplechase Records, Discograph, Hardly Records, and Heavenly Sweetness and is executive producer for MSM Records.
Jan Jeffries, Percussion
Known as the Rhythm Speaker, Jan Jeffries has traveled the world performing teaching and composing. Jan has taught all ages as well as serving those with special needs. She is an award-winning percussionist whose mission is clear; to empower others with drumming, combining the elements of working together, helping them feel good by expressing the music of their hearts while sharing the same space. Jan has led drumming circles in many public concerts, marches and events. She has performed with Monnette Sudler, Sharon Katz and the Peace Train, John Cruz and Makuna from Hawaii.